Welcome to Rick's ReCycle!
My story is a journey, sort of like a crazy bike ride.
It began with a restoration of a Hawthorne cruiser, bringing it back to life after years in a barn.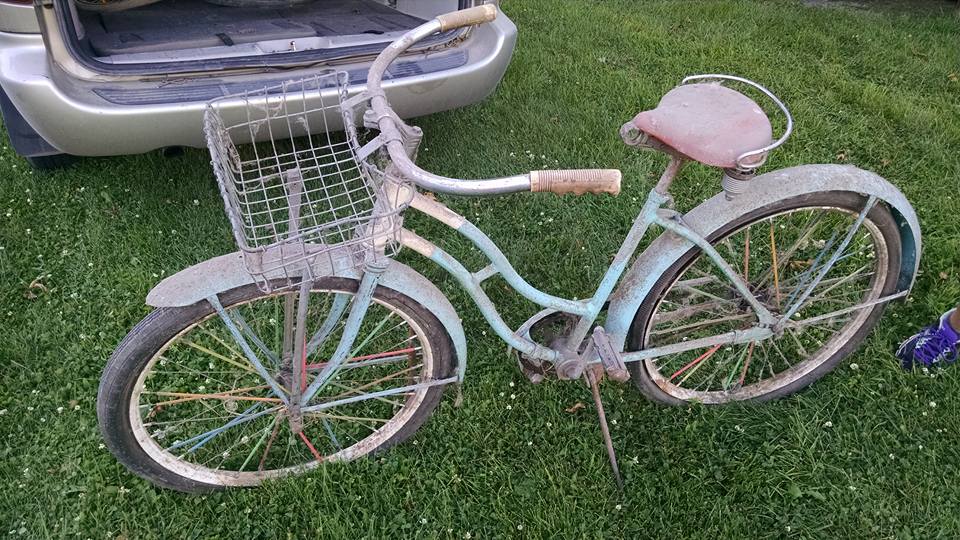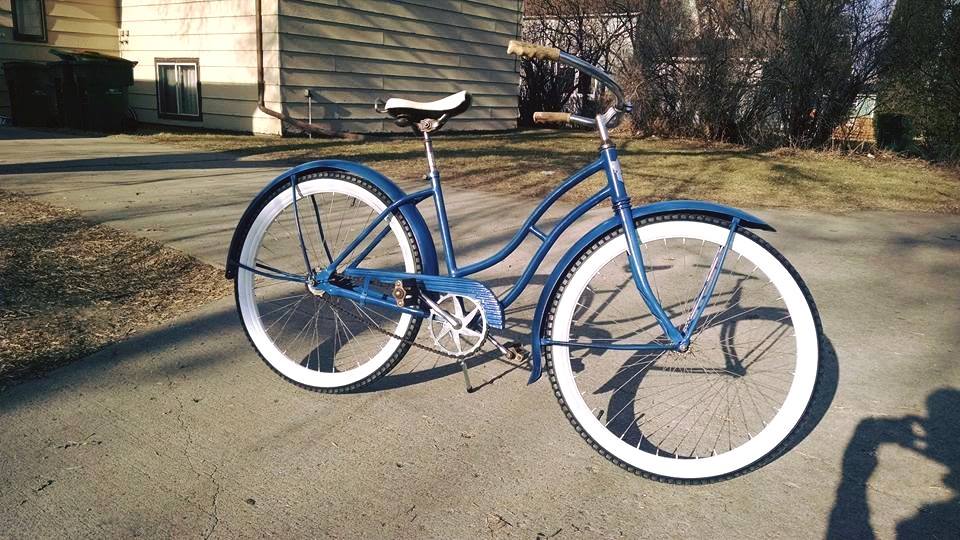 Then, tragedy struck, and I needed something to focus on, to help me heal through my loss.
Life's twists and turns ended up turning a summer of sorrow into a summer of restoration, in more ways than one.
I discovered my passion for history had a new road to go down...bringing back life to bicycles that needed to get back on the road again, much like I needed to as well.
RIck's ReCycle caught on and I found a new niche to pursue.
These are my projects and stories to go with them.
Some are for sale, while others are my stories to keep for a while, (well, some forever).
Message me to make arrangements if you'd like to purchase a restored or customized bicycle.
- Rick Karboviak, Rick's ReCycle rkarboviak@hotmail.com
------------------------------------------------------------------------------------------------------
PROJECT BIKES:
I came across an old bike with a 'tank' on it, also with a Skiptooth style chain (rare chain that isn't made any more, hard to get parts for). It is a Western Flyer from perhaps the 40's or 50's. Hard to find serial numbers to match it correctly. This was a "Day One" picture of it.
I decided since it was a ladies bike, I felt a Batgirl theme was in order...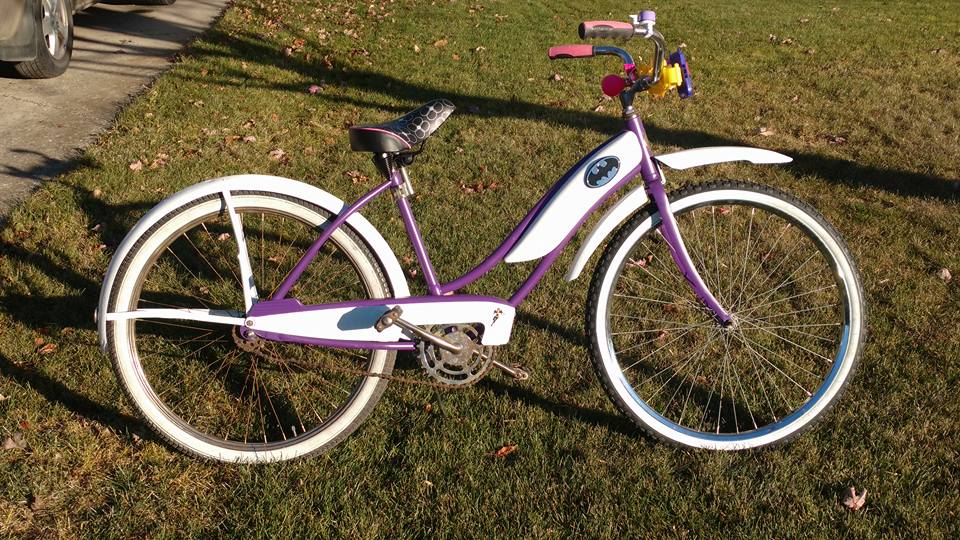 Additions: New purple/white paint scheme, new pink/black seat & grips, new front tire, newer rim from a 60's bike, front fender is also a painted MTB fender, same brand as Batman's front fender.
Also added for decoration and style: A Batgirl toy collection of a Bat Belt, Bat Phone, Bat Case with Batarangs, plus a pink horn and purple bell to add more flair to the package.
Batgirl is also for sale for $150, obo.
--------------------------------------------------------------------------
1970's Murray Ram-Rod Convertible Bike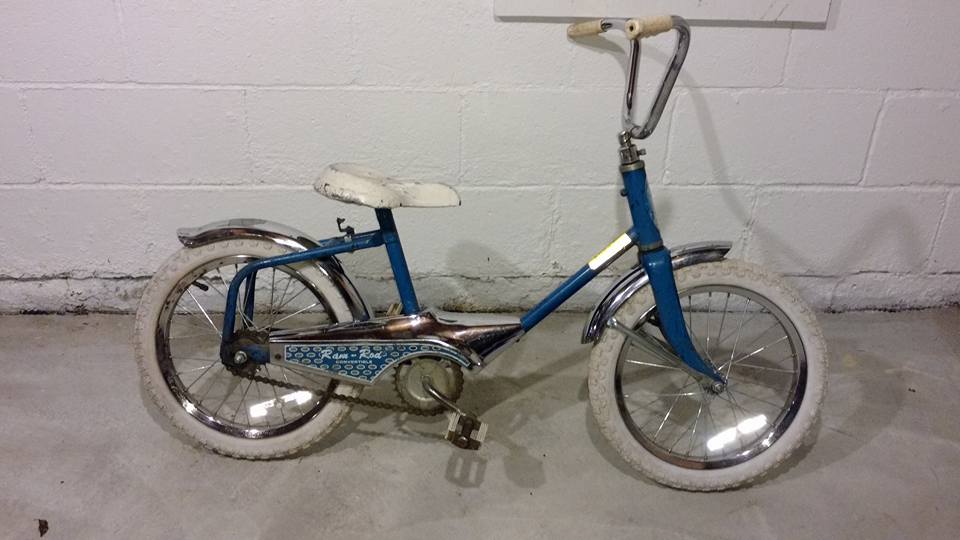 This bike is a 16" boys or girls bike to ride. I picked it up and the original real wheel was run over, so getting a new set of modern ones was the plan.
I found a set of chrome wheels and polished up the fenders and that stylistic chain guard! The white tires also goes well with the original white seat and handlebars, too. This bike does not have the 'convertible' bar in the middle, which converted it into a boys bike style. A Murray bicycle expert online helped me date it to around the mid 1970's. Not sure on an actual year.
It would also make a great conversation piece in a man cave, if you had this type of ride as a kid!
This one is ready to ride for either a boy or girl, complete with the old "City of Larimore" license from back in its day.
Cost is $40, obo.
------------------------------------------------------------------------------------
Farm Finds: Back To Life!
1948 Columbia with Skiptooth chain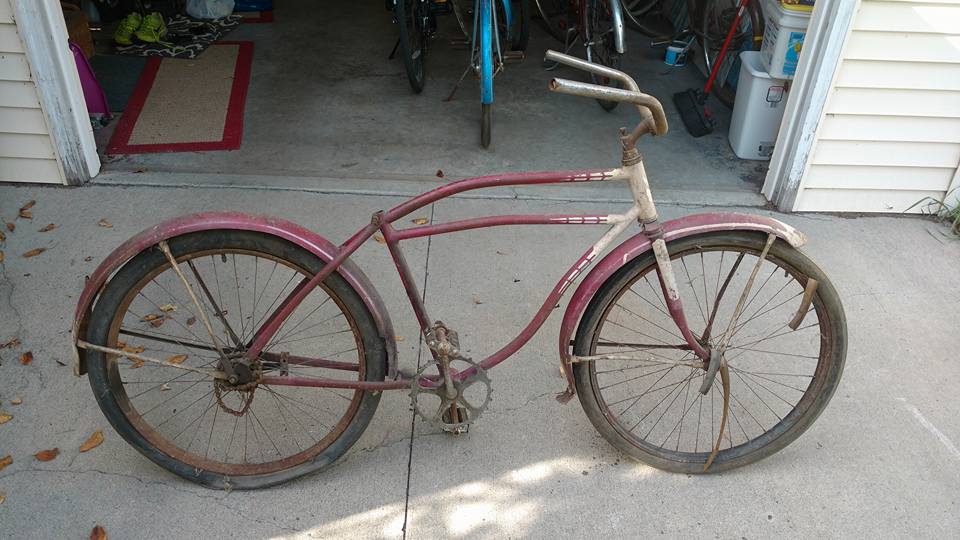 This looks like a junk heap, but there is a story to go with it. It's a 1948 Columbia bike, owned by one lady who got it brand new in 1948, until the day I bought it from her. I noticed it was a Skiptooth style for the chain, and wanted to see if I could save it. It had no seat, tires were shot, chain all wrapped up, too. It was a perfect choice to rebuild and bring back to the road!
I got the chain free, pedals fixed, new tires put on, plus painted a metallic coat on the rims. I found a seat that worked and went with it.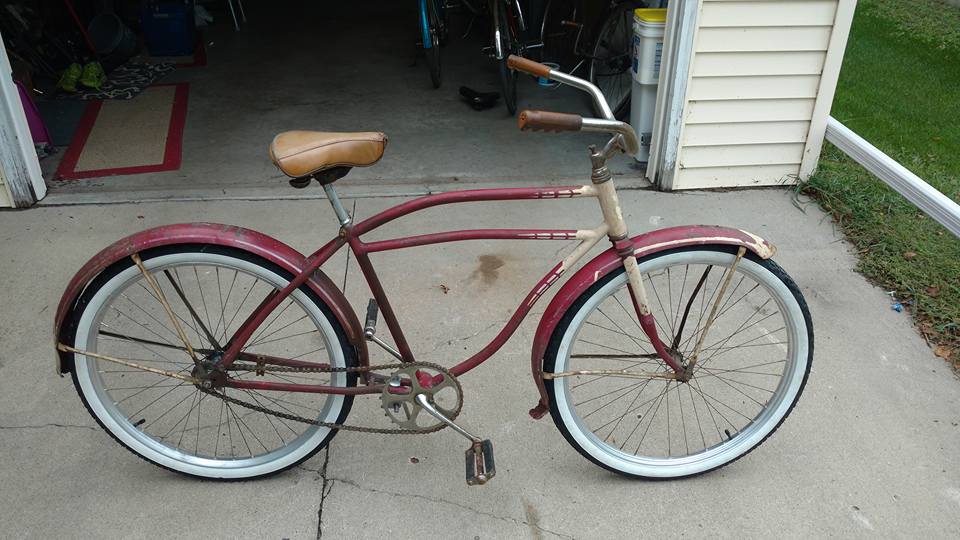 Still has some rough edges, but rides pretty decent for a bike that has stuck around this long. I'm the 2nd owner of it, will you be the third? Cost is $100, obo. Willing to negotiate. This might be a good find for you if you wanted an antique bike with a daily cruiser function to it. It appears to be painted over in spots, but from what I've seen online with other pictures of this era, its original paint on most of it.
------------------------------------
You can find the most current picks and restorations on the Facebook Page for Rick's ReCycle.
Message me by emailing rkarboviak@hotmail.com or call 701-361-3101.