May-Port Bikes & Brews Cruise
A Ride for Jenny's Warriors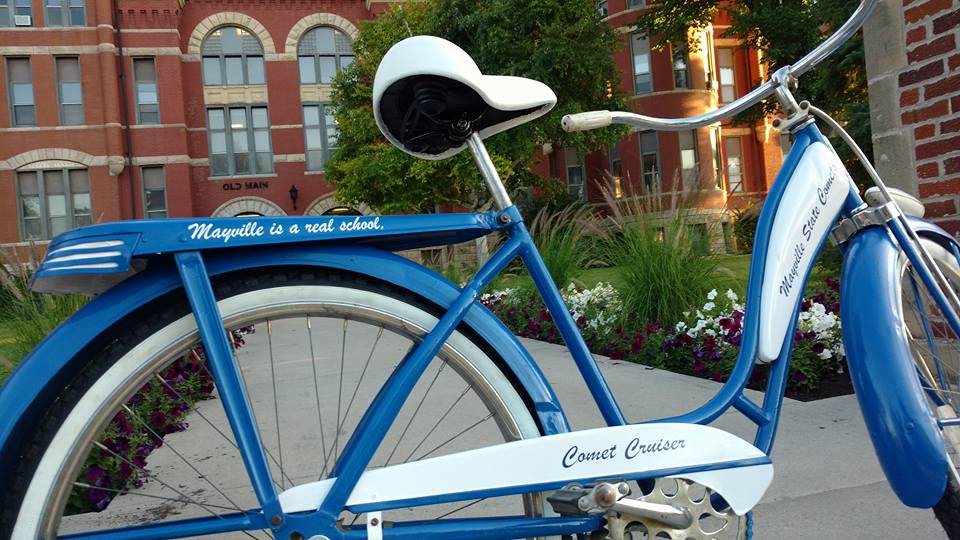 Friday, June 22nd, 2018
7:00pm
A casual bike ride from Mayville to Portland and back to Mayville, hitting various establishments for drinks and fellowship.
Must be 21 or over to ride.
Any bike will do, but a vintage one would be sweet!

Funds raised are for "Jenny's Warriors", a team of Jenny Karboviak's loved ones who raise money for the NF Walk in September at Moorhead, MN.
Jenny battled Neurofibromatosis-1, or NF-1, throughout her life. She suddenly passed away due to the effects of NF-1 on her body on June 7, 2016.
This ride is in honor of her. The bike pictured above was customized in Mayville State style to represent the love that Rick & Jenny shared together, and the college that brought them together as well.
Last year's ride was a fun one, we had many participants on our ride to Portland Liquor Store and back to downtown Mayville to Heroes and Legends.
We will meet at the parking lot that is west from the City Library in Mayville.
We'll ride from downtown Mayville, down by Island Park and onto the bike trail by the highway over to Portland.
Registration Fee is only $20 and you get a t-shirt as well.
(Please email me with a shirt size!)
Vintage bikes are preferred, but any bike will do!
Rick has a limited number of vintage bikes to use if you want to reserve one, please let him know ahead of time!
You can make your donation through Paypal with the button below.
NOTE: Alcohol consumption is not mandatory on this ride, riders are responsible for purchasing their own beverages at whatever establishment they visit while on the ride.
Please Ride Responsibly!
Questions? Call me at 701-361-3101 or email at rkarboviak@hotmail.com.
You can register by simply emailing Rick at the email above.