Rick's Personal Builds
This is my collection of personal builds and restorations.
The Hawthorne Comet
This was my first cruiser rebuild/restoration. It came from my wife's grandparents farm, this was the photo before I loaded it. After doing some research, I noticed it was a Hawthorne Comet. When I stripped the paint off, I noticed it was also painted over with a blue frame with white striping and decoration. My estimate on the year is either late 30's or from the 40's, based on the style of chain (a Skiptooth) and pictures from that era.
This bike was special since it was bought by my wife's grandfather at an auction, as a set of 3 bikes for $25. I also began the bike shortly after I became engaged to my wife Jenny.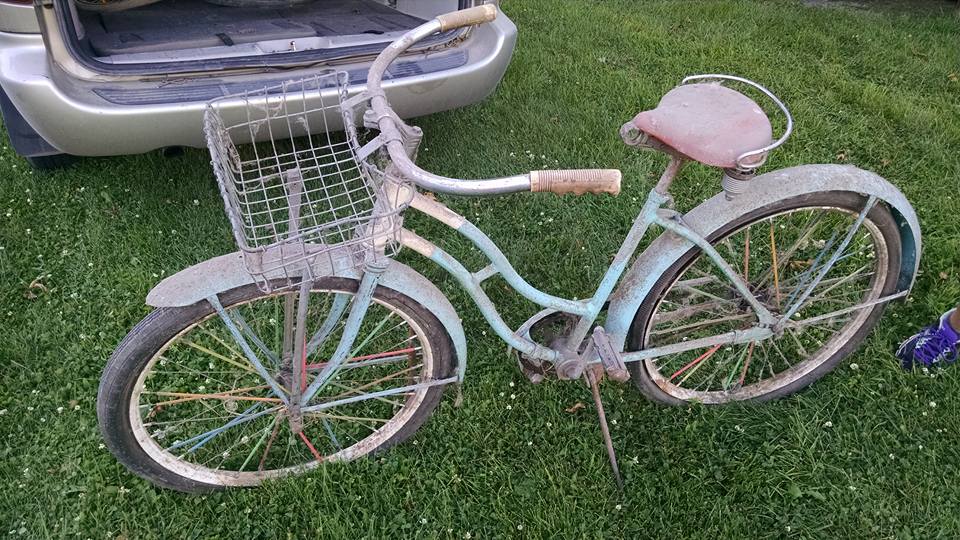 This was a process to rebuild, but taught me a lot about the process involved.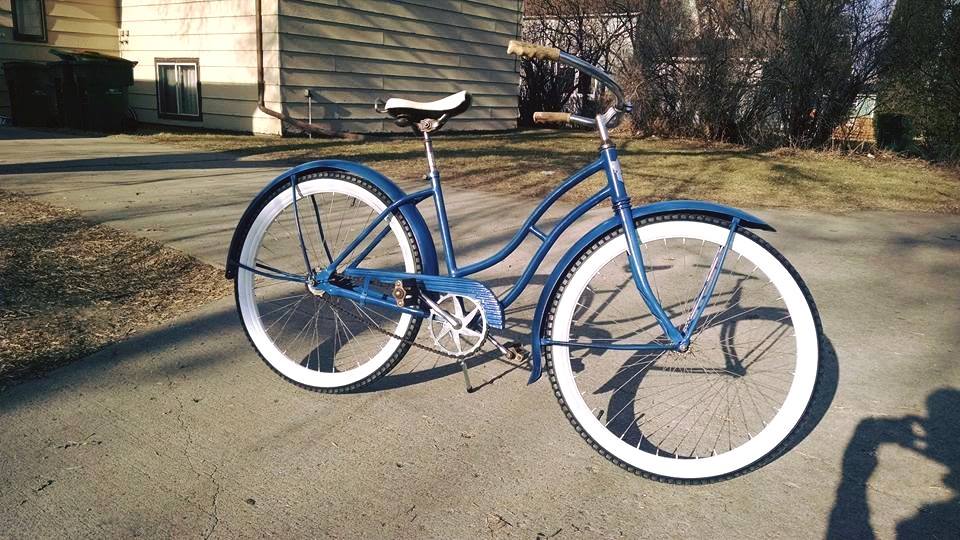 I found an older white seat for the bike, new whitewalls, and parts for the chain. I plan on keeping this one since it has such a connection to my wife's family.
---------------------------------
"Comet Cruiser", aka "Jenny's Bike"
This is almost a "day one" photo, but after the bike was shined up a little and new tires were put on it.
The story behind the bike is tough to tell, but needs to be told.
Before we got married, my wife Jenny and I agreed to have me build just one bike per summer, so we didn't have a garage full of bikes and parts. We got married on June 4, 2016. We were filled with joy for 3 straight days, taking off Monday after the wedding and returning to work on Tuesday. That Tuesday night, Jenny passed away when I was at home with her. She suffered from a disease called NF-1, Neurofibromatosis. It's a condition that causes tumors to grow over your body, and the tumors cannot be removed. Her sudden death was due to her arteries being weakened from the disease. It was something that stunned us all, as we went from celebrating a wedding, to planning a funeral within a week's time.
After a few days of dealing with my loss, I knew I needed to get busy with something over the summer, to keep my mind occupied. My dad & I checked out a local antique shop for a bike, and this one came in, a 1954 Firestone Deluxe Cruiser.
It was blue and white, a perfect "Comet Cruiser" to restore and turn into a bike, dedicated to my wife and our love for the college here at Mayville State, school colors and all.
My friend Brad designed the decals on the tank and chain guard, and the rear rack.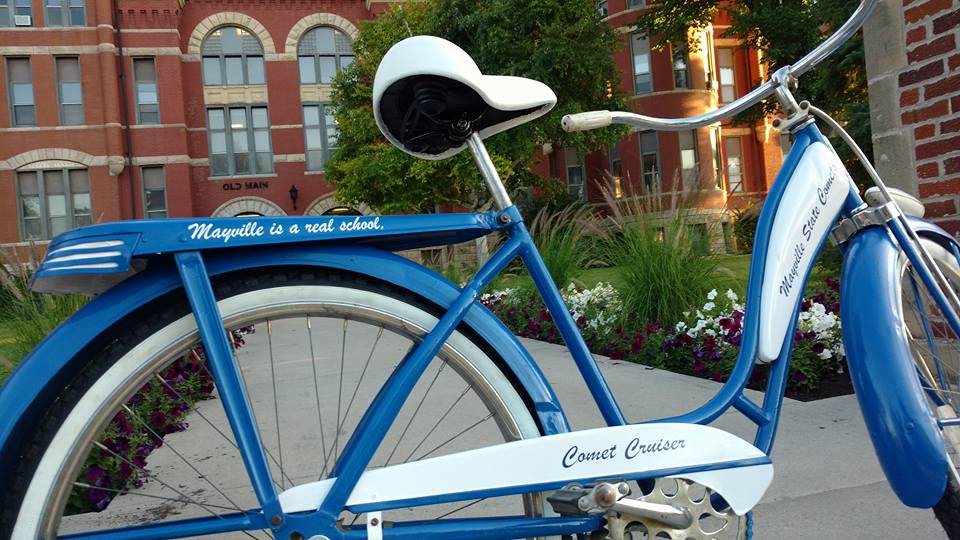 This is taken in front of MSU's Old Main building.
The bike has been in two parades for the college, and even had a photo op with the VB team.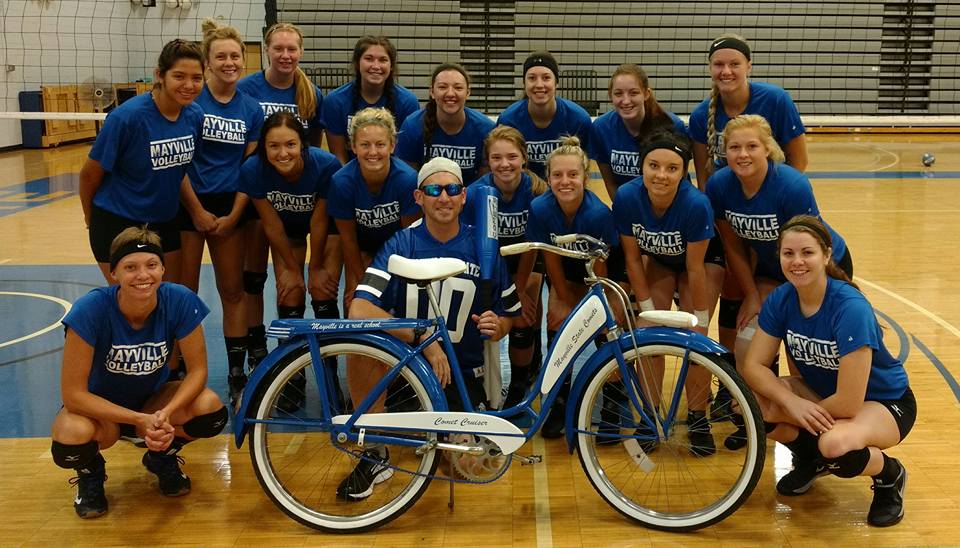 It has even been featured in the MSU Today alumni magazine.
Some new things on it are: new white seat, an antique headlight I found on another bike, new tires, and even a blue chain.
I will always love you, Jenny.
-------------------------
Dad's Hiawatha
This is my dad's childhood bike, a bike he bought for $25 back in the 60's from a neighbor not too far from the family farm. My uncle is still on the farm and found the bike still hanging around.
Don't know an exact year, but guessing mid 60's. Hiawatha's were built by Murray back in this era, a lot of Murray's look exactly like this bike.
It found its way to me and I worked on it. The rims were pretty bent, so I swapped them out with a 70's cruiser with 1 3/8's width tires. I hope some day to find a pair of 1.75's, but for now, its a good fit.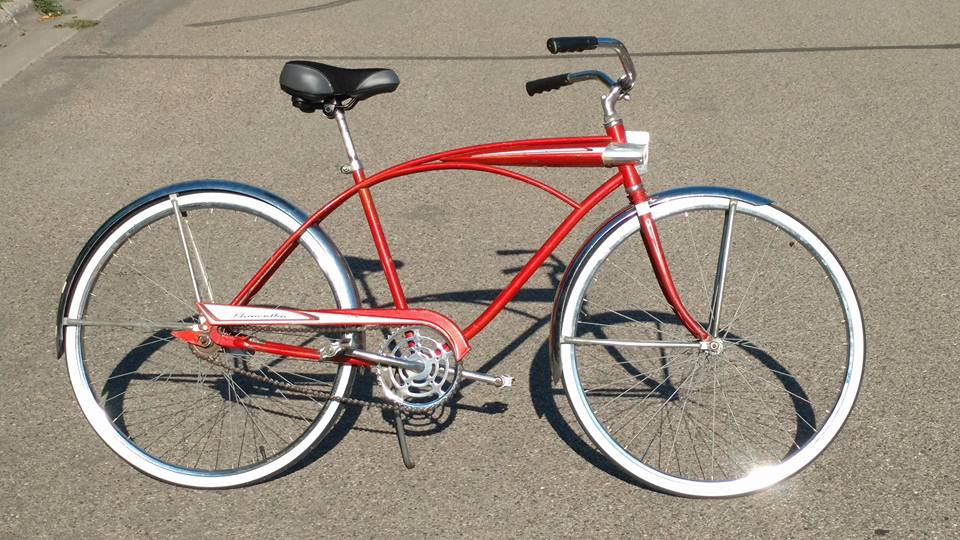 ----------------------------
60's Firestone Silver Cruiser
This bike was found by an antique picker from Grand Forks, who found it near Jamestown on a picking spree. I was the first to see it on his way back to GF. I was in love with the blue and the CHROME! So much so, I bought it and realized the chain was missing when I got it home.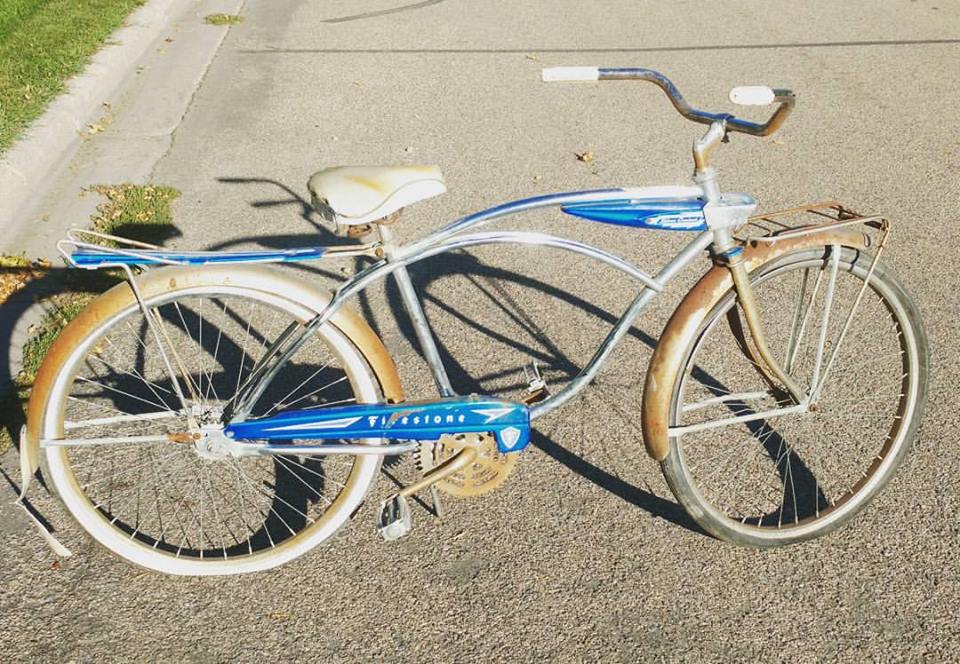 I mainly shined this one up and changed the tires on it. I think the tires are from my dad's old Hiawatha since they had to be replaced.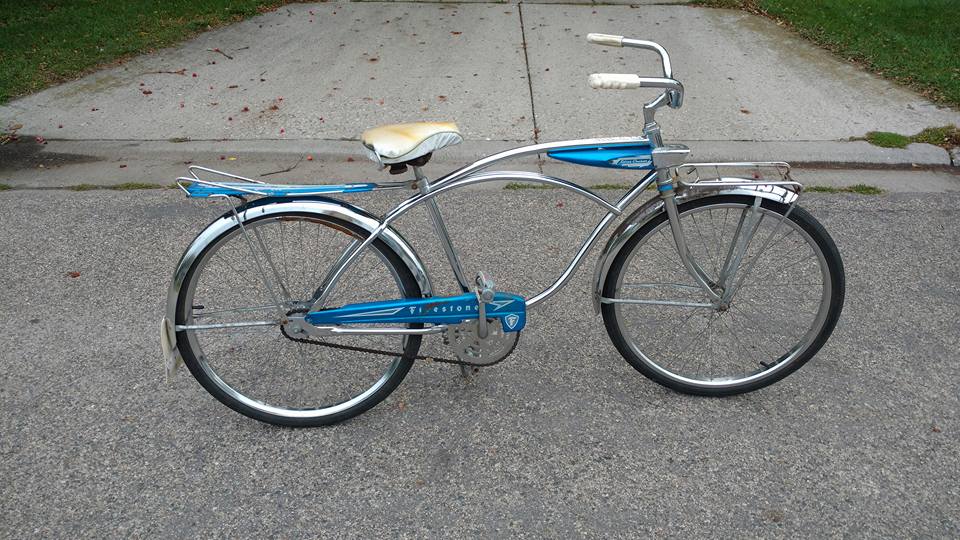 The Firestone bikes were made by Huffy in the late 50's and 60's, this appears to be a 61-63 era bike, based upon its similar look to the Huffy Silver Jet and the Monark Silver King from that time frame. Before the Huffy takeover, they were built by Monark. When Huffy bought Monark, the Firestone bikes came with it, I believe. I absolutely love the style on this baby, it feels like a bike that goes on forever with its swoops and lines. AND THAT CHROME!
--------------------------------------------------------------------
1967 AMF Roadmaster Skyrider Deluxe
This is actually not in my personal collection, but is a rebuild job that I did for my co-worker. I put it here as an example of what I can do with a basic flip job to customize a bike.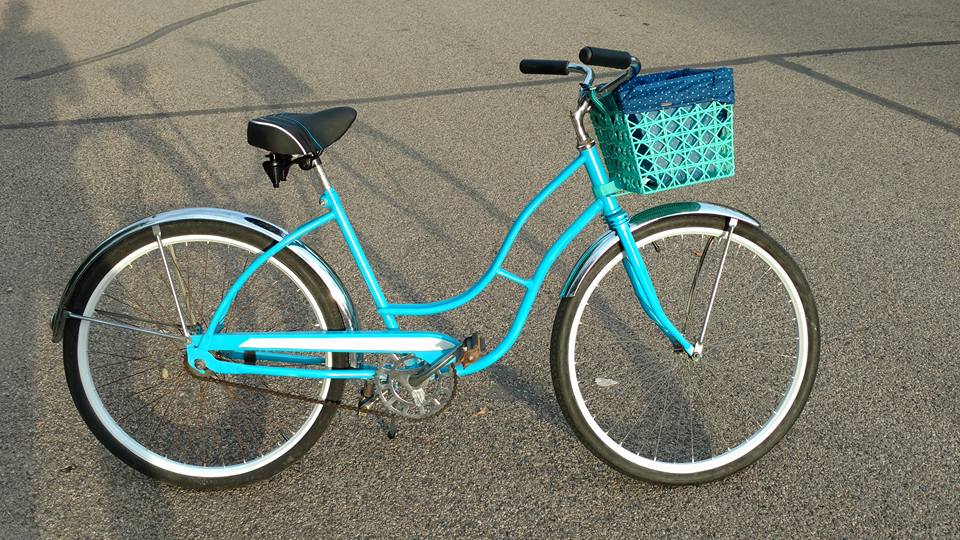 This was a red, painted-over-twice bike that I got from another guy who was getting out of doing bikes.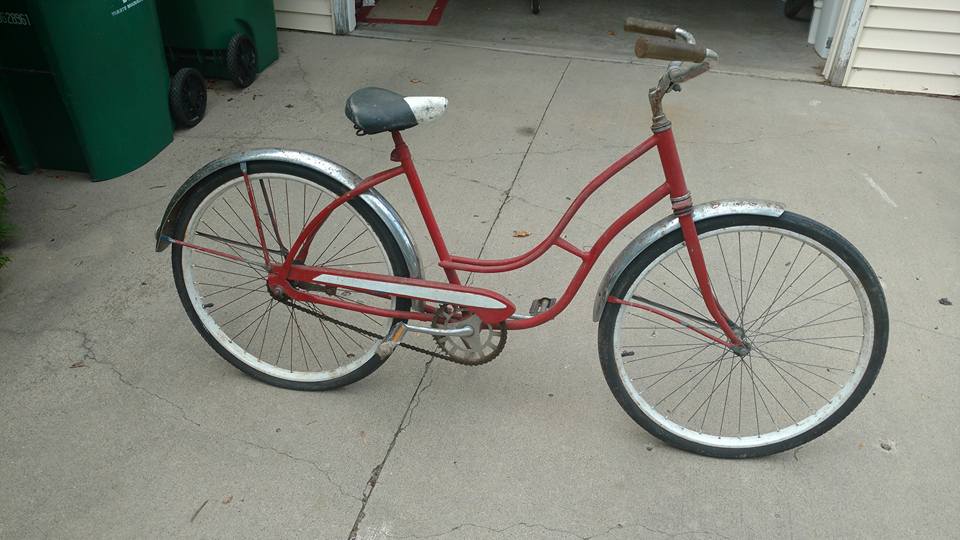 She was pretty ugly, but with a little bit of work, she's ready to dance again in the streets!
If you had an old bike that you wanted to have flipped, this is an example of what I could do on that bike.
-----------------------
I don't have direct payment links setup on my site, so please contact me over email or phone.
Email: rkarboviak@hotmail.com
Phone: 701-361-3101 (call or text)
Facebook: Rick's ReCycle Page